OUR VENDORS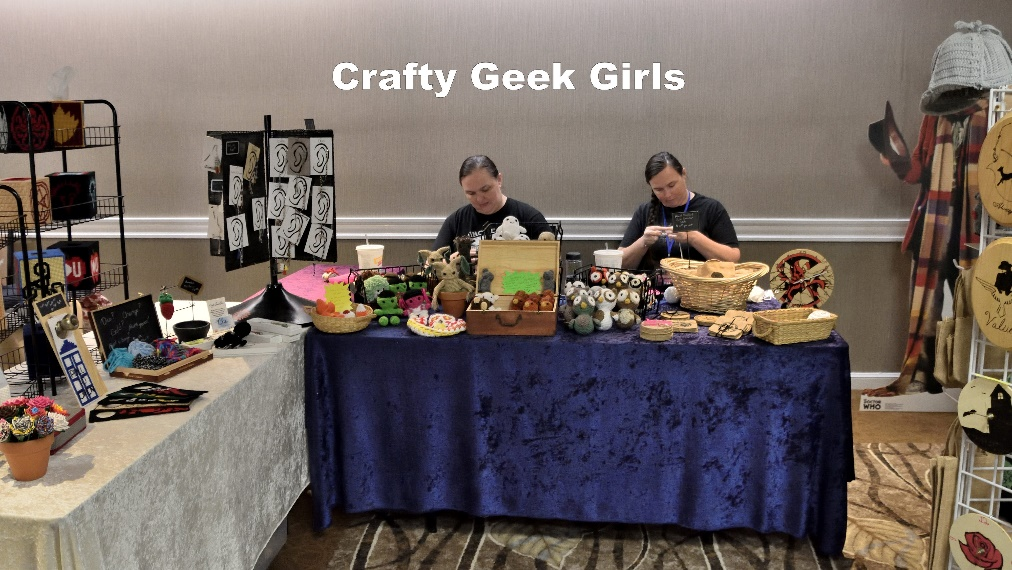 Crafty Geek Girls
Website: http://www.etsy.com/shop/craftygeekgirls
Fandom themed handmade jewelry and bookmarks, crochet dolls, home décor in woodburning and needle art, and much more.
*******

Wyng'd Lyon
Website: http://store.wyngdlyon.com
Offering a selection of stickers, makeup bags, playing cards, stuffed animals, pins, and more!
*******

Pillows by Cat
https://www.facebook.com/pillowsbycat
Fandom themed pillows, keychains, tote bags, lanyards (and more). All handmade! 
*******

Fandom Finds 4U
Contact: fandomfinds4u@gmail.com
https://fandomfinds4u.myshopify.com/
Fandom Finds 4U specializes in new and vintage SF, Fantasy, and Pop Culture Collectibles and Memorabilia. Jewelry, Watches, Games and Toys. SF and Fantasy themed fan-made arts and crafts. Ask us if you don't see what you're looking for!
*******

Geek Regeneration
Website: http://geekregeneration.com
Fantasy Gauge & Faux-Gauge Earrings. Geek merchandise including art cards, cosplay prints, cosplay accessories, knit items and memorabilia.
A geek Mecca for all things science fiction, fantasy, cosplay, LARPs, Costumed Festivals, Re-enactments, RPGs, video games, toys, props, costumes and all things über-geeky!
*******

OConnor Originals
Contact: diva4lfe@cox.net
Original and unique handmade gifts including fandom-themed aprons, jewelry, masks, and quilts.  
*******
Holzheimer's Distribution
website: www.amazon.com/shops/holzheimers 
Holzheimer's Distribution© has offered rare collectibles since 1975. With most of its sales coming from conventions, we are now pleased to offer some of our stock on line. We have a huge selection of photographs, autographs and other oddities. If you do not see it, please feel free to email us and ask.
*******
Dragonmarsh Apothecary and Teas
website: www.dragonmarsh.com
"Somewhere there is a cup of tea getting cold!" Don't let it be yours!
Loose tea, spices, oils, incense and more! Custom themed strawcases, snack bags and oil cases! We miss our whofriends. Free shipping code on front page of website. "Don't blink" it will be gone soon!
*******