Who Con V(irtual) Costume/Cosplay Contest
What would Who Con be without a Costume Contest? We are now accepting entries for our virtual Costume Contest! This event is FREE and open to all ages.
Update:
We hear you! We didn't give you enough time to put your costumes together and submit your videos, so we're extending the submission deadline to midnight on October 16th! We'll be broadcasting all the costume videos and the results of the judging on Halloween! (Time to be announced.)
NEW SUBMISSION DEADLINE: Oct. 16, 2020 (11:59pm, PDT)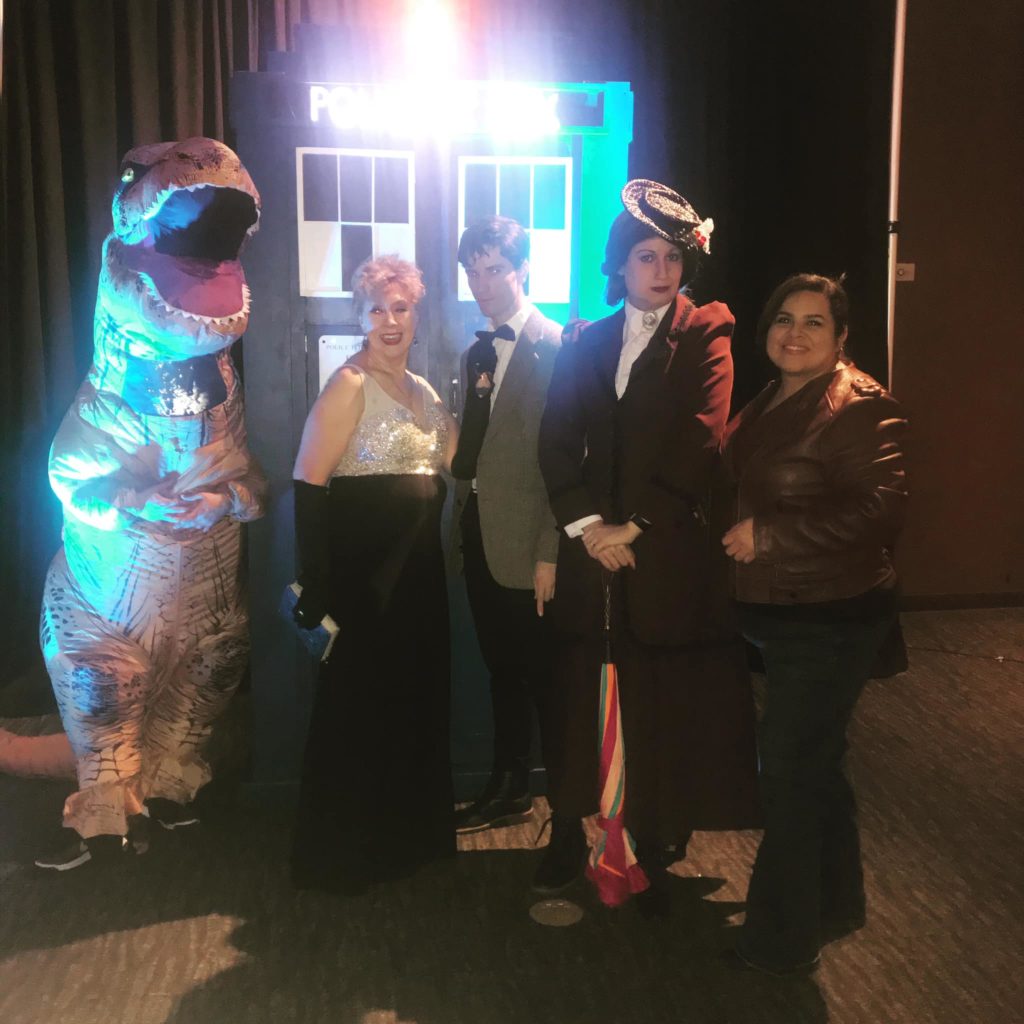 HOW TO ENTER:
Create a short (10-15 seconds) video of you in your Doctor Who themed costume/cosplay. There are no age limitations and no categories so anything Doctor Who related is acceptable.
All poses/movements are up to you but must include a clear view of both the front and back of the costume. 
Email your video submission to sdwhocon@san.rr.com, with the subject line COSTUME CONTEST. Include your name, location (city, state and country) and a very brief description of who or what the costume represents.
All entries must be received by Oct. 16, 2020 (11:59pm, PDT) to be eligible.
RULES/GUIDELINES:
Videos must be 10 to 15 seconds in length and clearly show both the front and back of the costume. Do not include music!
Only one entry per person will be accepted. Who Con personnel and their immediate families are not eligible to enter.
This virtual contest is open to all regardless of age, race, creed, sexual orientation, gender identification, size, or shape.
Who Con is a family friendly event so we ask that all elements of your video submission be G-rated. Offensive, overly revealing, or suggestive videos will be disqualified.
Do not submit an entry on behalf of someone else unless you have that person's express written permission to submit the entry and publish the video. (This does not apply to a parent or guardian submitting a video for their child.)
You do not have to personally construct your own costume. However, "Quarantine Creations" are acceptable and appreciated! We know how difficult it can be to get fabric and supplies for costumes right now. Feel free to create a costume using whatever you have lying around!
By submitting your video, you are granting Who Con permission to publish it on our website, YouTube page, Facebook page, Twitter account, and on our Instagram page.
We reserve the right to disqualify any entry for any reason without notice.
JUDGING/PRIZES
Our panel of guest judges will view the videos and make their selections. The compilation video and the results of the judging will be broadcast on Halloween! (Time to be announced.)
All winners will receive a full weekend VIP pass to next year's Who Con at the Four Points by Sheraton in San Diego, October 8-10, 2021.
IMPORTANT TIPS
If you use a cellphone to record your video, record in horizontal mode rather than vertical. Horizontal mode creates a more professional looking video and eliminates the black bar on either side of the video image.

Your entry should show the costume in full (head to toe, front and back) and should be clear and well lit.

Avoid distracting backgrounds that don't contribute to your costume. We recommend an uncluttered, neutral color background.

Use of props is acceptable and can enhance the overall effect of the costume as long as the props do not obstruct the view of the costume.